Come And Have An Alpaca Experience Or Buy A Voucher For a Friend

TRIPADVISOR Certificate of Excellence 2018

Have Fun with your Friends or Family on your Alpaca Walk.
See this years cria (baby alpacas) 11 have been born.
Relax with a drink and a snack from our new alpaca coffee shack and enjoy the views.
Browse our barn shop for alpaca gifts and merchandise.

GIFT VOUCHERS NOW AVAILABLE
Call for details 07753333784.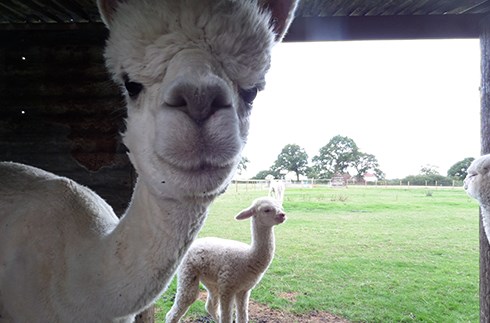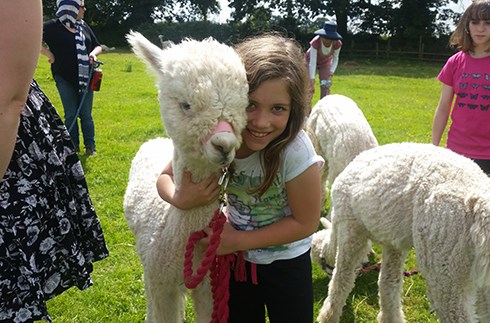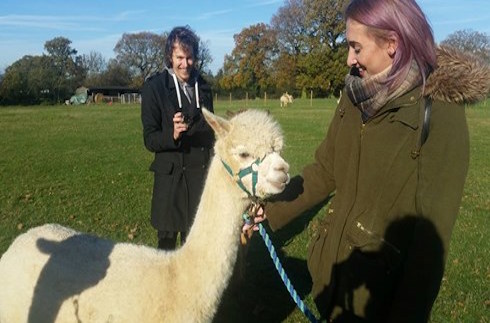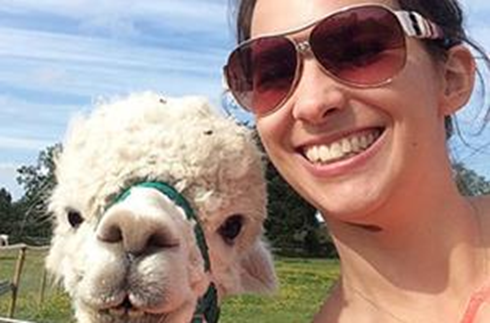 Come join us at Lucky Tails Farm and meet all of our friends. THIS FEB/MARCH ADULTS £13.50 AND CHILDREN £7.50 Usual price ; £20 adults £10 supervised children. Once booked tickets are non- refundable . Click here to see terms and conditions (BY BOOKING ONLY) This will include a talk about Alpacas in the barn shop, take our Alpacas for a walk, then meet the goats, chickens, Kune kune pigs and our new residents valais black nose sheep! THE CUTEST SHEEP IN THE WORLD
***New for 2019 meet our miniature donkeys- the tiny friendly dinky donkeys***
.
*Please note supervised children will not have their own alpaca

Your experience will start in our visitors barn with an introduction into Alpacas, fleeces, breeding programmes and what we have set out to achieve at the farm. You will then be taken to meet our fluffy friends and harness up your own alpaca. We will then go for a very leisurely stroll around the land with Norman, Jon Snow ,Dark Knight or anyone or our herd. There will be a great opportunity for a photo shoot and those all important "selfies". Meet our 2018 cria and watch them play. Once we have the Alpacas back in their paddocks you will be able to meet
the other residents starting with;

- Our cheeky pygmy goats, always full of fun, and their newborn kids
- The pigs -throw them a carrot or two
- The strange and curious Valais Blacknose sheep
- Guinea pigs and piglets
- 20 plus chickens including Silkys, Polands and "bog standard" layers.
- Our turkey who is SO pleased christmas is over!
- Our miniature Donkeys
There will be an opportunity to feed all of the animals and meet them up close.
Visit the farm shop and view our quality alpaca products.
Finally sit , relax and enjoy the views with a drink and snack from the NEW ALPACA COFFEE SHACK.
After our guided tour feel free to stick around to spend longer watching the animals as we return to normal farm duties......yes feeding and shovelling poop!.

PLEASE NOTE; This is a working farm so in the winter the land can become wet, so be advised to wear wellingtons or sensible footwear.

CLICK BUTTON BELOW TO BOOK ONLINE OR CALL 07753333784 OR 01827820810 TO BOOK YOUR PLACE TODAY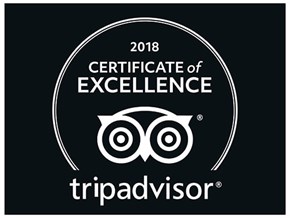 01827820810
07753 333 784
info@luckytailsalpacafarm.co.uk
Address
Dexter lane
Hurley
Atherstone
CV92JQ
Opening Time
Morning Visit
Wednesday - Sunday: Open 11.00 - 12.30
Afternoon Visit
Wednesday - Sunday: Open 13.00 - 15.30